Fort Worth police have surrounded a home not far from the location of an apparent bank robbery where three female employees were shot early Thursday morning.
The women, all employees at the bank, were hospitalized with serious, but non life-threatening injuries.
Sgt. Chris Britt, with the Fort Worth Police Department, said preliminary information indicates at least two people entered the Veritex Bank on the 2400 block of Merrick Street at about 9:20 a.m.
3 Women, All Employees, Injured in Shooting Inside Bank: PD
Gunfire erupted and three bank employees were shot; other employees inside the bank were not injured.
Britt said police are not sure how many armed people entered the bank and it's not clear if they left with anything.
Meanwhile, at about 11:30 a.m., Fort Worth police's SWAT and Special Response Team assisted the FBI in surrounding a home near the 5700 block of Blackmore Avenue and evacuated adjacent residents.
3 Employees Injured in Shooting Inside Bank (Raw Video)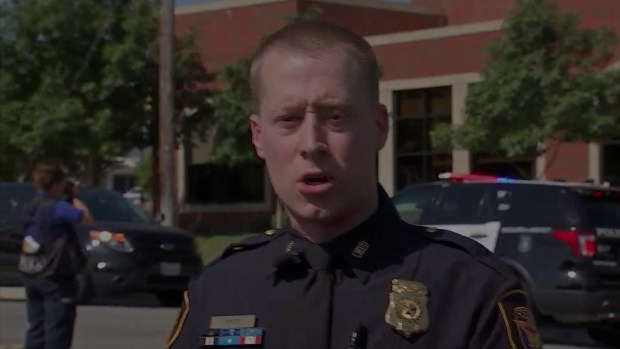 During an short news conference in the neighborhood, Britt was unable to confirm if the standoff was related to the shooting at the bank but said officers were waiting on search warrants before any further activity would take place at the home.
"We cannot say for sure that anybody involved in anything that's taking place here [at the standoff] is actually involved in the robbery, but out of an abundance of caution that's why you're seeing the response that you're seeing," Britt said.
Britt added that access to the neighborhood near Blackmore Avenue is being restricted and that residents should avoid the area.
Police Investigate Shooting at Veritex Bank (Raw Video)
Closer to the bank near Camp Bowie Boulevard and Merrick Street, investigators are looking for witnesses who may have seen anything unusual, including one or more people running from the bank.
Police are looking at security cameras to get a better idea of what took place inside the bank. An accurate description of the shooters is not yet available.
Britt said the FBI is assisting the Fort Worth Police Department's Robbery Unit in the investigation. More information is expected to be released Thursday.
Anyone with information that may help the investigation is asked to call the Fort Worth Police Department.
source: AP