KARACHI: The stock market broke the five-day long bear stranglehold on Wednesday with the KSE-100 index staging recovery of 406.56 points (1.20 per cent) to settle at 34,291.65. The index hit intraday high by 559 points without once taking a dip in the red.
The investor excitement was underpinned by the developments in the Oil and Gas Exploration and Production sector where the rise in international oil prices together with the reports of completion of offshore drilling at Kekra-I project and an expected official announcement of the estimated reserves, brought back value hunters.
As a result, the major E&P stocks; Pakistan Petroleum Ltd and Pakistan Oilfields Ltd closed at their upper circuit, while Mari Petroleum Company and Oil and Gas Development Company (OGDCL) also posted handsome gains.
The announcement of the Amnesty Scheme also brought suspense to an end enabling investors to make slightly informed decisions. For the time being investors seemed to have set aside the fear over economic slowdown and the upcoming events of Financial Action Task Force review; State Bank Pakistan Monetary Policy and the Budget FY2020.
Investors in general took positive bets on fertiliser, cement, banks and steel sectors. Power sector remained second largest contributor to index, adding 62 points on the back of possible resolution of circular debt in coming months.
Nishat Chunian Power Ltd, Nishat Power Ltd, and Pakgen Power Ltd gained 4-5pc in their share price. Mixed sentiments were witnessed in the cement sector where Fauji Cement Company Ltd up 3.0pc, Cherat Cement Company 2.3pc and Lucky Cement 1.0pc closed in the green while, on the flipside, Kohat Cement Company was down 4.4pc, D. G. Khan Cement 3.6pc and Maple Leaf Cement Factory (MLCF) 2.7pc closed in the red zone.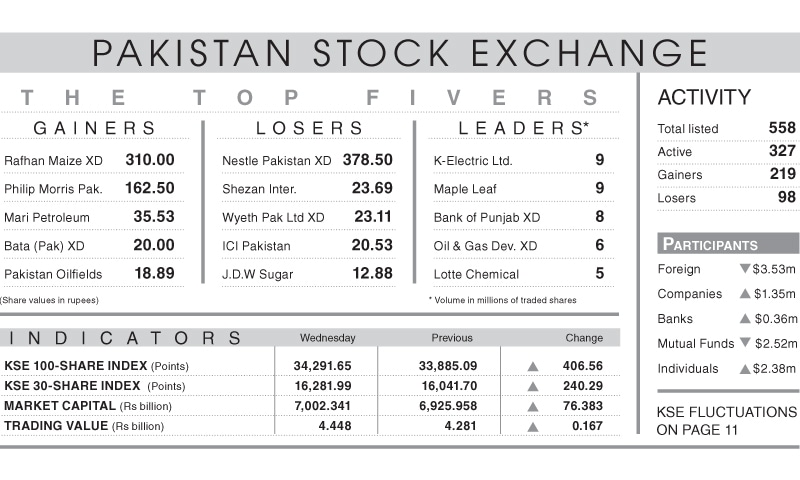 Volumes increased slightly from 105.7 million shares to 110.9m shares (up 5pc day-on-day). Traded value also rose by 4pc to reach $31.5m from $30.3m.
Stocks that contributed significantly to the volumes included K-Electric, MLCF, Bank of Punjab, OGDCL and Lotte Chemical, which formed for 33pc of the total volumes.